Second edition of Old Tower festival was held on 18th July 2007 on the Old town above a small city of Velika Kladuša in Bosnia and Herzegowina, with lots of good music and partying until morning! Preparations for the event itself started early in the day with the arrival of bands from Austria and Croatia, while other guests came during the afternoon and evening. The whole town anxiously expected the summer refreshment in the form of the biggest rock/ metal festival in this region, and the hotness of that July day was enlargened by the expectations of  all the fans of these music genres, who have been slowly coming up to the castle gates.
The program started at 20:45h with the opening word by the two organizers of the festival, who gave the stage to young forces from Kladuša, band "Silence", this time playing instrumentals created imaginatively with a new member of the band behind drums. After them, "Mohatra" presented itself as one of the strongest young bands on the rock scene of the Una-Sana canton, with several new songs inspired with the likes of Audioslave, at the same time downright thrilling the audience.
Revolt from Banjaluka have with pleasure played a modern mixture of hardcore with hiphop like the world famous Linkin Park, but with the fire of postwar generation of BiH, and they played solely their new material, showing determination to go forth on new music paths without
looking back. The fury of guests from Banjaluka has been completely accepted by the audience, and in the same time prepared them for coming of the headliners on stage, and before that, a special performance. Lovekiller with the dark wave anthem by Blutengel "Bloody Pleasures" included a unique performance with plenty of stage blood and playing with shadows, something which the visitors of Old Tower have definitely not seen before.
Sanguis et Cinis, gothic metal band from Austria, came to the stage around 23:00h, and thrilled all in front of it with a selection of their creative past and lots of songs such as "Catholic Girls", as well as an interesting cover of Idol's "Rebel Yell", making the audience jump franatically and outsinging the lead lady Eve, who with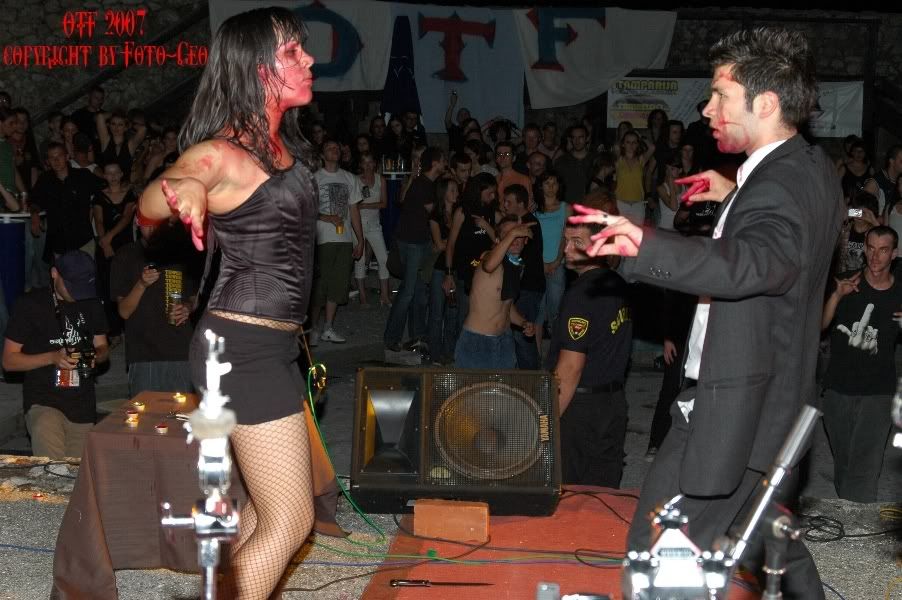 her Gothic Lolita look charmed and stole hearts with shy smiles from stage. With their defined samurai/Visual Kei image the boys loyally followed Eve and presented something new to BiH, because their performance on Old Tower was their first in this country.
For the second time guests of the fest, F.E.B.R.A. from Dubrovnik played in front of their fans which they gained last year, and gave an inside "hear" of the new material. This time again "Big Kladuša" was heard from the frontman Bozga, which made the audience mad, and most likely, since the sole creation of the fest is connected with trying to bring this band to Velika Kladuša, the boys from Dubrovnik will grace the OTF stage next year as well.
After them, second headliners of the fest, Slovenian FrozenchilD, concluded the festival program in the best way possible, with selected cuts from their first album "Birth".
Even though they had troubles with the documents needed to cross the borders, they haven't cancelled the show and even though being late they've managed to give to the visitors from Kladuša and other places present there an insight into their exciting gigs, which might get continuation with the tour planned in this part of BiH too upcoming fall.
Fest officially ended around 3:00h, while unofficial party continued until the dawn-filled hours of the next say. Somewhat tired, somewhat drunk visitors slowly descended into town saying goodbye to the night behind them, and the festival itself, marked as even more successful than last year, soon goes to "new territories"…
watch out 2008, here it comes!
(review also appears on Venia-Mag)